Office Fit Out and Refurbishment
Over 20 Years of Office Interior Design
We are one of the leading nationwide office fit out and refurbishment specialists, working with hundreds of businesses throughout the UK to provide the highest standards of office design.

It is no secret that we welcome professional interior designers of all ages and backgrounds into our company, where we provide a diverse and innovative workplace culture which allows our staff branch out and be truly creative.

Over 20 years of office interior design, office fit out and refurbishment fuels our designs, leading us to create some of the most innovative and market leading office designs throughout England and our devotion keeps pushing us to new heights.

Contact Us Today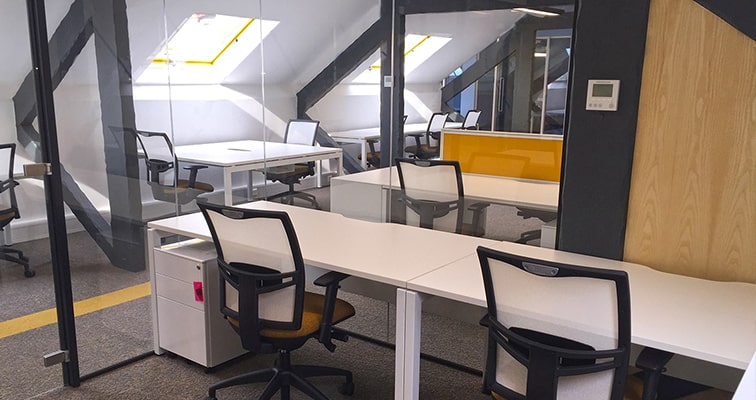 Office Refurbishment Fit Around You
An office fit out should not be taken lightly, it is a major change to your workforce therefore it is crucial that you choose a company you can trust to manage your project.

Our team work alongside you to fully realise your business' corporate goals, how your business operates and your future goals. This way we can ensure you are getting an interior that not only serves its purpose but also drastically increase workplace performance while maximising your budget.

We pride ourselves on our customer satisfaction achieved by our attention to detail and our dedication to your individual needs, working around your schedule to allow you to continue business as usual throughout the fitout works – if required.
What can you expect from an Office Fit Out?
Turnkey design & Installation Services
Start to Finish Project Management
CAD Interior Space Planning
Fit Out & Refurbishment Works
Supply and Install of Furniture
Bespoke Designed Furniture
Bespoke Floor Coverings
Electrical and Mechanical works
Air Conditioning and Ventilation Systems
Decoration
24/7 Support
Extremely Competitive – We will Beat your Quote
We handle everything from start to finish on your behalf allowing you to be involved as much or as little as you like throughout the entire process
Building and Safety Regulations
We take our Health and Safety concerns very seriously and take great care to ensure that all our work conforms to the latest regulations and general good practises.

Prior to any site work we will always issue a complete RAMS package – specific to your site & requirements to ensure your health & safety manager is happy for us to proceed knowing every risk has been thought through.

Want to organise your free site survey?