Warehouse Mezzanine Floors
We are the leading suppliers and installers of commercial warehouse mezzanine floors designed to make the most of your warehouse space, whether for storage, office use or production space.
Warehouse Mezzanine Floor Installations
A warehouse mezzanine floor is the cost-effective alternative to purchasing or renting additional warehouse storage or office units, able to provide more than double your current footprint and designed to fit operation requirements.
Installed by trusted mezzanine installation experts.
Complimentary site survey and structural calculations.
More that 100% increased space on single and multi-tiered mezzanines.
Building regulations completed on your behalf to certify your warehouse conforms to safety regulations.
Prompt installations, minimal downtime.
Designated project manager.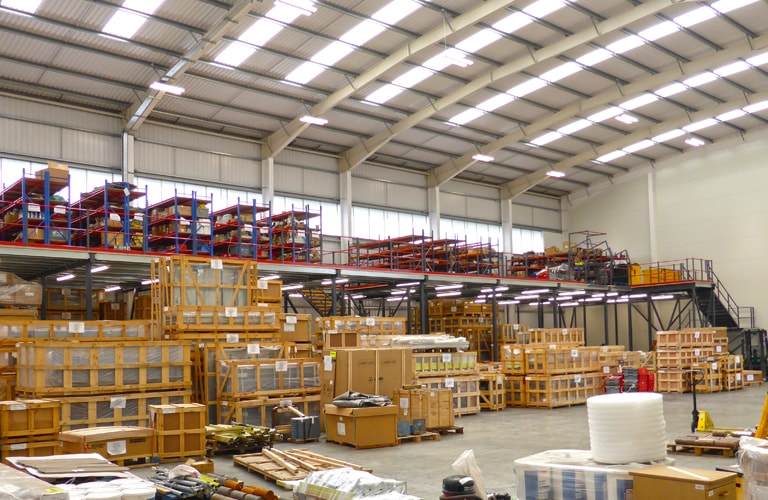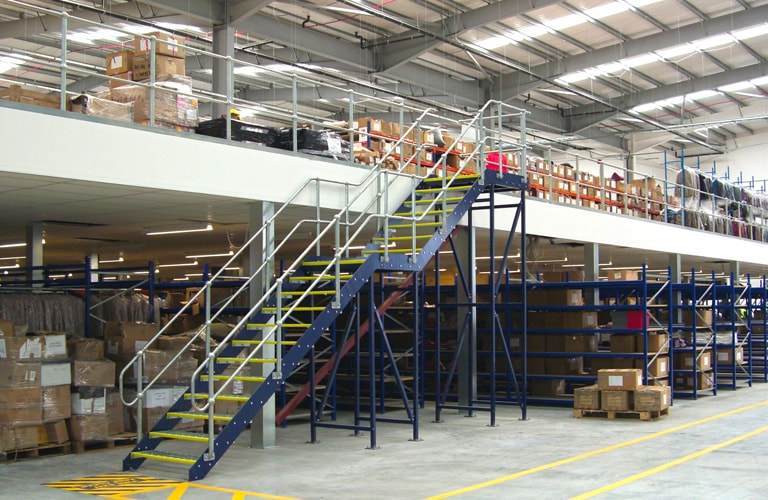 Warehouse Mezzanine Design and Install
A mezzanine floor is a raised platform that is independent of the warehouse's building structure, providing a secondary level between floors that is generally supported by steel columns or racking structures.

Our warehouse installations are designed bespoke to suit your unique requirements, be it to increase storage space, craft modern office spaces or anything in-between.

The T2 design process allows us to consider your required fire protection, emergency lighting and alarms across your warehouse mezzanine alongside any necessary safety signage for passageways and other high-volume usage spaces. Mezzanine floors generally require a means of access and exit, generally via the use of a steel stairway that conforms to suitable fire and building regulations.

A lifting device will be required for transport of goods or products to and from the platform, automation through conveyor systems, manual and automatic goods lifts or forklift use.
Benefits vs Costs
Installing a mezzanine floor for your warehouse enables you to think more about using your cubic capacity rather than the ground floor footprint, opening up many benefits and savings.

Thinking cubically means you may not require as large of a property as you originally expected, saving on reduced rent, bills etc. A warehouse mezz allows you to expand without pushing your budget, and providing your headroom permits, you can further increase your usable capacity through multi-tier mezzanine floors structures.

Another advantage to a mezzanine floor is the ability to split your warehouse into sectors, having one floor for storage and one for production or office use. This can drastically increase your throughput, picking times, operation and travel times. Separating your operational area can also increase workplace safety by separating footfall through busy operation areas.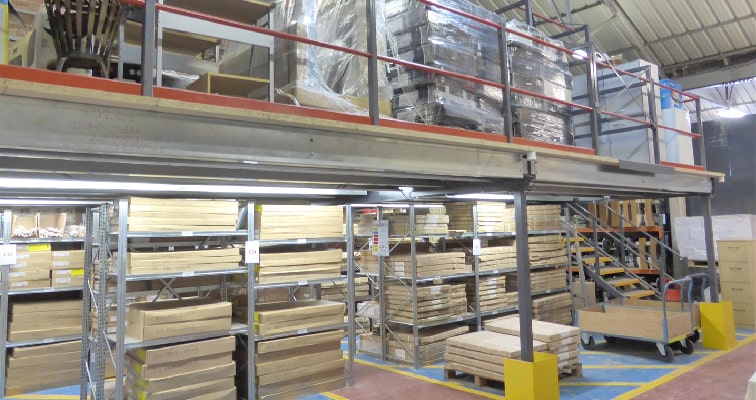 Building and Safety Regulations
Mezzanine floors can often be installed without planning permission due to them being independent of the building structure, however they will still require building regulation approval.

Here at T2 Storage Solutions we are happy to assist you through the process or we will apply on your behalf, certifying that your flooring project meets all required government agency approval and complies fully with building and fire regulations, and British standards.