Standard Adjustable Pallet Racking
Wide Aisle Shelving Installations
---
Standard Wide Aisle Pallet Racking
Fast Installation – Versatile – Adjustable
The simplest and most familiar of racking shelving systems, wide aisle pallet racking is easily adjustable to suit and store any palletised load without the need of specialist handling equipment or apparatus.
Benefits of Standard Aisle Pallet Racking?
Unrestricted Access to All Your Pallets at All Times.
Wide aisle pallet racking allows unhindered access to all your pallets at all times and due to the large variety of depths, widths and heights; the installation is a truly bespoke – purpose focused installation.

The modular system can also be reconfigured to fit any future requirements and changes to pallet size with very minimal effort. With adjustable beams, this racking can be configured to accommodate changes in the type of goods stored and wide aisles allow access by all types of truck.

Unlike Narrow Aisle's 45% coverage , Wide Aisle racking utilises roughly 40% of floor space however it allows fast throughput, with loading and unloading being relatively straightforward and trouble-free.

The versatility of the standard Pallet Racking systems permits them to be designed to meet your current storage requirements in addition to accommodating future business growth.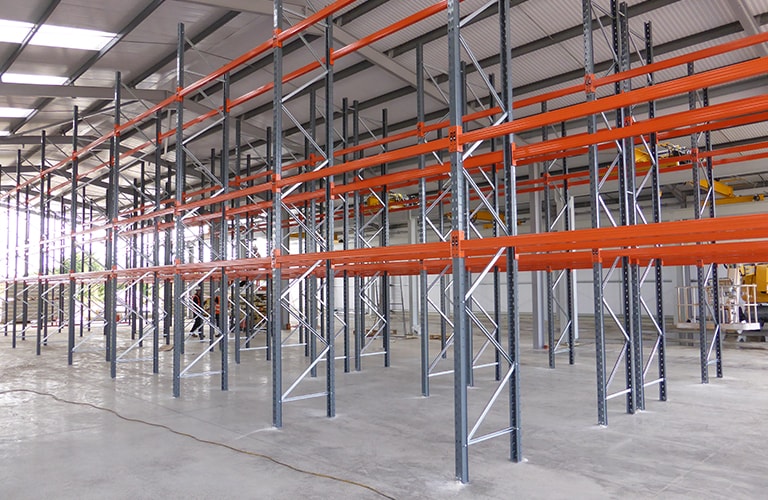 Quality Assured Installation
Our professional installation teams can easily install wide aisle systems into almost any premises and in a very short timeframe, which minimalizes project installation times and lowers your downtime.

Like all our Pallet Racking Options, our teams have the ability to adapt a new standard steel shelving system to match and adapt to your current storage solution, including the ability to reconfigure your current installation for optimal storage proficiency.
Standard Adjustable Aisle Racking Summary
Unrestricted Access to All Pallets
Flexible Beams – High Adaptability
Great Throughput
Very Affordable
Operate with Standard Equipment
Very Fast Installation