Storage Mezzanine Floors
If you required additional storage capacity without the excess costs of relocation or expansion, a storage use mezzanine floor could be the perfect solution for you.
Why install a Storage Mezzanine?
A storage use mezzanine floor can offer you up to double your current storage capacity on a single tier mezzanine floor and even more on a multi-tier mezzanine floor. Our installations work around your requirements and are designed to not interfere with your inner workings.

The cost of installing a T2 Storage mezzanine typically outweighs the cost of the relocation, saving on higher rent of a larger unit, equipment relocation and set up.

Our storage use mezzanines are a demountable and relocatable asset, meaning if you do eventually outgrow your current premises, your T2 mezzanine floor can easily be dismantled and relocated. The floor can also be further extended to match your new larger premise.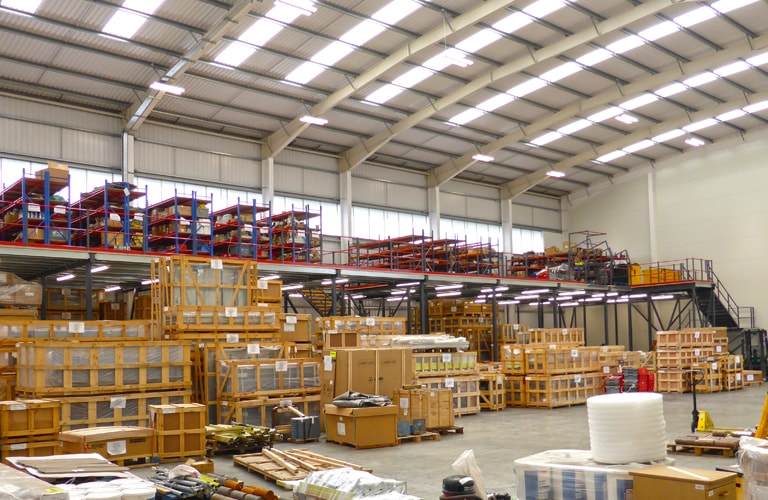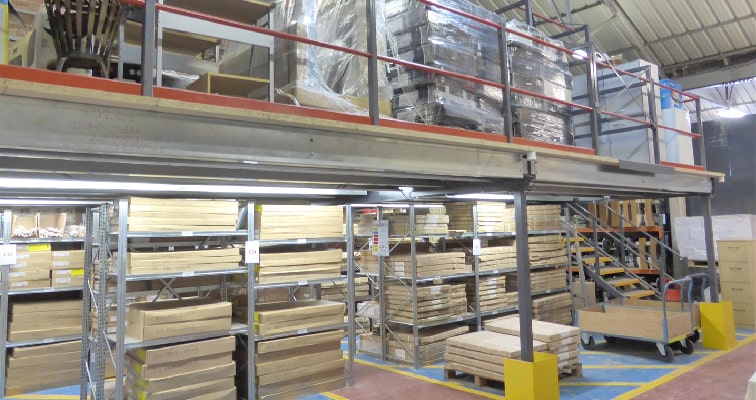 What can be stored on a storage use mezzanine floor?
Consideration must be taken when designing a mezzanine floor for storage use, including the weight of the stored products, the way items are picked from the structure and how the client intends to access the mezzanine.

Storage mezzanine floors and platforms are designed by engineers to withstand substantial loads and are capable of supporting industrial & commercial racking and shelving systems, bulk storage of Palletized goods, heavy plant and Machinery etc.

Typically, our mezzanine floors are designed to hold loads of up to 500kg per square metre however an excess of 1000kg per square metre can be achieved dependent on the ground pressure bearing of the building floor. This is something we can check for you.

If you require a full storage solution for your mezzanine floor, we offer bespoke Racking systems and Shelving systems.

T2 Storage Solutions specialise in the specifying, design & building of shelving & racking systems both on & under mezzanine floors – allowing you to maximise the available space within your warehouse operation ensuring the best ongoing return on your investment.
See more about Office use Mezzanine Floors
Mezzanine Design and Install
The installation of a mezzanine floor for storage and warehouse use allows clients to think more about the cubic capacity of their space rather than the initial footprint of the building, opening many benefits and savings on relocation or building expansions.

A mezzanine floor consists of a raised platform that offers a secondary (or tertiary) level between the ceiling and floor of the building, completely independent of the buildings structure and supported by steel columns. The floor can also be supported by racking structures which we can offer alongside your mezzanine platform to enhance your storage capacity further.

Our mezzanine floor planning service allows us to help the structure conform to all required necessary health and safety standards, including the required fire protection, emergency lights, safety signage and pathways.

A steel fabricated stairway is commonly installed to allow access and exit to the mezzanine level while conforming to fire and building regulations.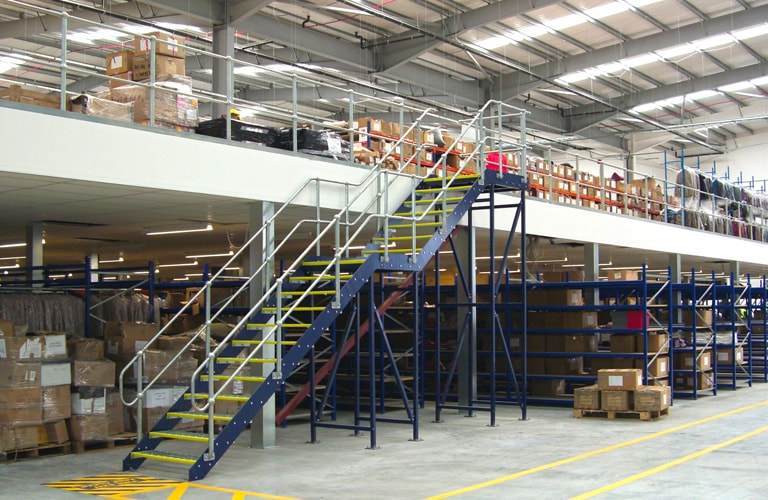 Building and Safety Regulations
Our mezzanine steel structure floors can usually be installed without the need for planning permission due to them being independent of the building structure, however they will still require building regulation approval.

T2 Storage Solutions takes full engineering and design responsibility for ensuring that all our floors meet and exceed Building Regulation requirements and are fit for purpose, applying on your behalf so you don't have to.