Improving Throughput through Warehouse Automation
Reliable, Cost Effective, Safe
Warehouse automation allows business to focus their staff on more human lead tasks, allowing the automation process to take care of repetitive, labour-intensive processes.
Specialists in Automation Installations
Expert Installations
We are a leading UK warehouse storage & automation solutions provider with an extensive client base. Whatever your storage & handling needs and wherever you are in the UK, T2 can design, supply & install automated storage solution systems that fully utilises the volume of your building to maximise its cubic capacity and works for you.

With our extensive knowledge of warehouse solutions, storage handling and production difficulties can become a thing of the past.

With such a wide range of products available to us, T2 Storage Solutions can quickly find and advise on a suitable automated warehouse solution for all your storage problems.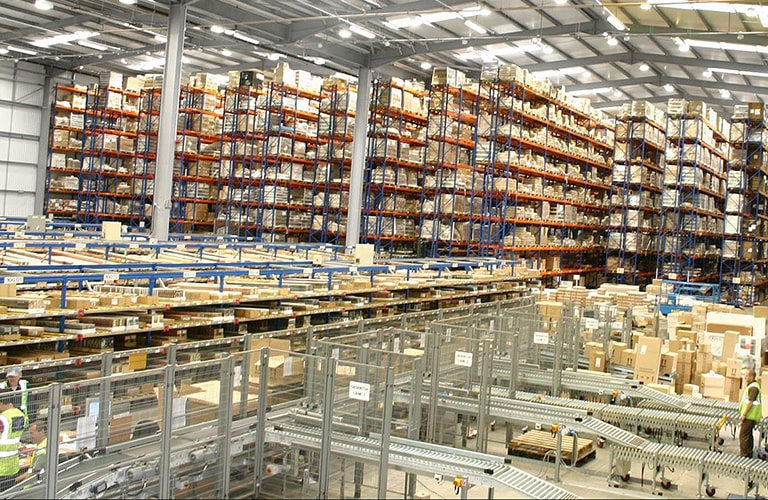 Conveyor Systems
Our most requested automation installations is Conveyor Systems, a semi or fully automated system designed to lower the manual repeatative and labor-intensive tasks associated with large business storage.

Provisioning is one of the largest automated procedures in any large organisation, human provisioning, even with forklift aid, can take a great amount of time.

These can move up to 2 ton pallets with an automated sorting system and can be created to suit your bespoke pallets.

Read More about our Conveyor Systems
Hydraulic Goods Lifts
We offer the ultimate manual handling solution when loading / un-loading from a mezzanine floor using our bespoke Mezzanine Lift.

It offers employees a safe, simple and efficient way to handle bulky loads up to 500kg between two or three floors without the need for a fork lift truck and also allows the entire handling process to be undertaken by a single person without any manual lifting.

Read More about our Good Lifts