Mezzanine Floors
T2 Storage Solutions are one of the UK leading designers and installers of mezzanine floor structures, having years of experience for a variety of applications over an increasing range of market sectors including warehouses and offices.
Mezzanine Floor Installations
A Mezzanine floor utilises unused vertical space in your existing premises to create a secondary floor, potentially doubling your operational footprint and adding a new storage dimension.

Mezzanine floors are a great alternative to relocation, creating additional space for your business at a fraction of the costs with minimal downtime.

All our mezzanine flooring installations use the highest quality steel columns to introduce a sturdy raised platform (raised floor) independent of the building structure, creating intermediate levels between existing floors.
All our mezzanine floor are installed by trained professionals.
Free Site survey and Structural Calculations.
Increase space by up to 100%, avoiding costs of relocation.
We handle all building regulations for you, ensuring your mezzanine conforms to safety regulations.
Fast installation – usually in a couple of days.
Dedicated Project Manager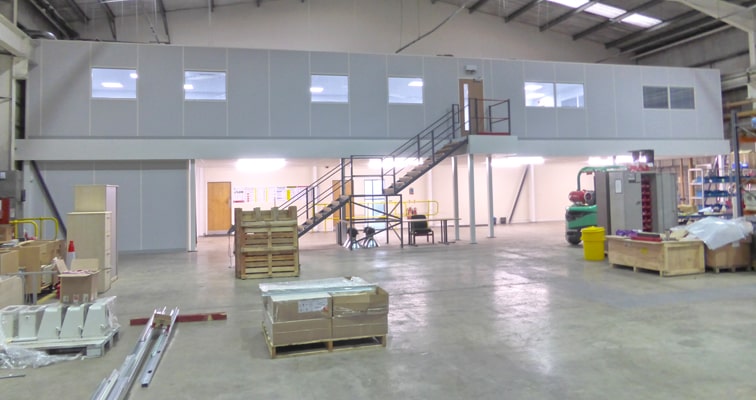 Structured Mezzanine Floor Built Around You
Our mezzanine floors are calculated and individually designed to suite your exact requirements, whether its to increase storage space, increase picking times or create luxurious working spaces – our professionals are ready to help.

There are a large range of configurations available for your mezzanine floor installation including Goods Lifts , Pallet Gates, Handrails, Steel Stair cases and more.

Our floors are built to handle all possible applications, from light storage and office spaces to the support of heavy machinery and large pallet racking solutions with imposed loads 3.5 to over 20kN/m2.

Access to the platform for people will generally require a stairway which will be constructed from steel and conform to the appropriate building and fire regulations. Access to the platform for goods or product will require some form of lifting device. This may be a conveyor, a goods lift or a forklift truck. In the case of the forklift truck an access gate (Pallet Gate) in the handrail will be required.

Fire Protection (usually in the form of a fire rated suspended ceiling) can be added to the steelwork to provide fire protection or to improve its appearance. One hour fire protection is a typical requirement.
Mezzanine Gallery

We offer a complete free site survey for all our mezzanine floor projects, whether for your office space, a new factory or industrial unit workspace.
Contact us today for your Free Survey