Anti-Collapse Safety Mesh
Safety Mesh and Netting for Racking Solutions
Zero Maintenance – Full Pallet Tested
T2 Storage Solutions' Anti Collapse Safety Mesh and Netting are installed by industry leading professionals, ensuring your pallets and stored goods are always safe, no matter the mishaps.


Steel Anti-Collapse Mesh Panelling
Perfect protection against falling goods or pallets.
anti-collapse mesh installations are a cost effective and bespoke solution for ensuring safety and security for racking in any industrial premises such as warehouses and factories.

Our bespoke steel fabrication services and the modular nature of the framed mesh system makes this framed wire mesh extremely versatile, allowing it to fit to almost any existing or newly installed Pallet Racking solution.

The steel mesh system is mounted on stand-off brackets at the rear of the racking installation, which can be alternated between up to 300mm to allow for a variety of pallet overhangs and accommodate projecting items.

The general purpose of an anti-collapse mesh is to reduce or entirely prevent injury from lost items falling off the rear of pallets and is installed where the racking runs along walkways and pedestrian paths.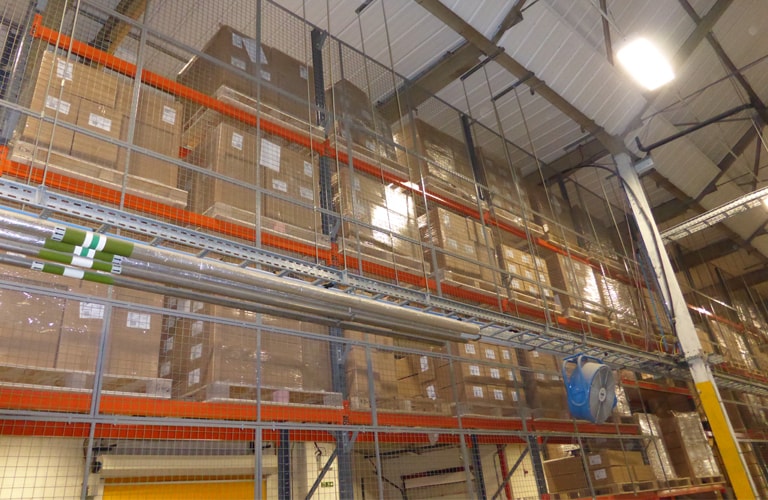 Steel Mesh benefits
Secure – Sturdy Build
Fast Installation
Open Mesh allows Airflow
Inexpensive
Back of Rack Safety Netting
Anti-collapse safety netting is a modern alternative to traditional steel mesh panelling, developed to overcome many of the issues seen in the framed wired solution. Made of Nylon, the netting is made to gently flex / rebound moving pallets, ensuring pallets are not pushed too far back on the racking.

Unlike the Steel anti-collapse mesh, the nylon net is extremely damage resistant as it does not rust, dent or corrode while being easy to clean in case of spillage. Once installed the anti-collapse nylon netting becomes practically maintenance-free so your warehouse can spend more time operating and less time adjusting.
Nylon Safety Mesh Benefits
Zero maintenance
2x Faster Installation
Open Mesh allows Airflow
Fully independently tested for full pallet load falls
Varied colour options available
Very Low Deflection